Renewal
Please go to the following website and follow the instructions to renew membership:
https://portal.sls.com.au/
Steps for renewal once logged in can be found in document attached guide, 'Instructions on renewing your single or family membership'
We cannot assist with forgotten passwords, usernames etc. Please click on forgotten password/username as below or contact Surf Life Saving Australia on (02) 9215 8000
Payment of Membership Fees
Payments
Membership payments are made through the portal as well. So once you have renewed per above, click on the make payment link and it will take you to a payment page where you can make payment via credit card.
If you need other methods of payment please email bancooraslscfinance@gmail.com and we will provide alternative methods of payment.
When making the payment please ensure you do the follow:
Select type: Membership Fee
Name and Description: Include your Full Name (Member paying) and type of membership (Note if both adults in family have different surnames please enter both surnames so we can link correctly as family) e.g. Nipper family, young gun family.
Price: enter price per below or there is link on this page to see current price list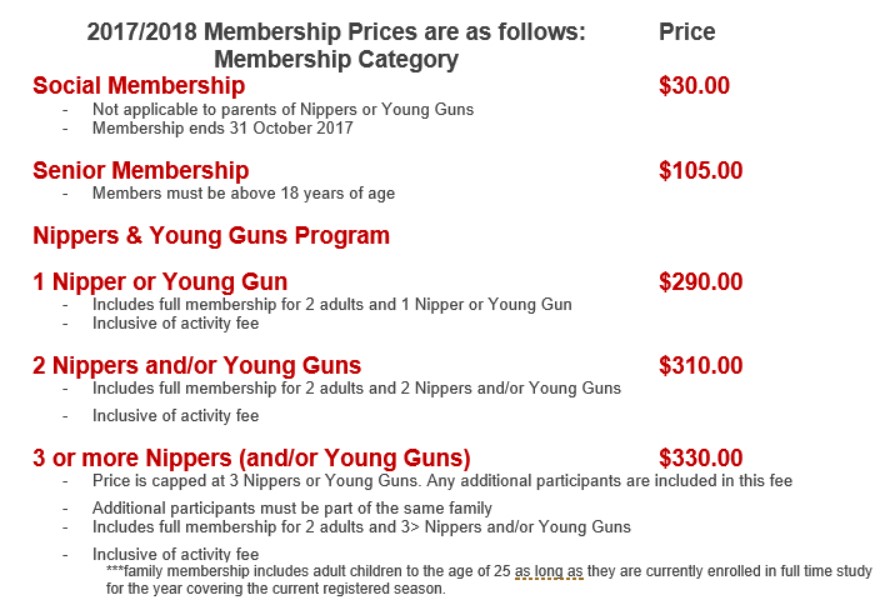 Family Membership
Please note all members of the family are required to be a member if your child or children are participating in nippers or young guns.
When registering on the Surf Life Saving Australia portal you can create a family group so you can link yourself, partner and children under one renew. This needs to be created first, check all details are correct of all members then click renew and this will renew all members in the family.
If you have any issues with membership or the Surf Lifesaving Portal please contact Angella at enquiries@bancoora.asn.au
Contact Details
Please also ensure your contact details (email and mobile number) are correct in the personal details field as these are our main methods of communication with you.
If they change during the season just log back into the Surf Life Saving portal and update these and our systems will automatically be updated.
Club T-Shirts
This season Bancoora will be providing every patrolling member, regular parent helpers, nippers and young guns with a club t-shirt. The t-shirts will be free to those active members listed above who have their membership paid and approved prior to the end of November 2017.
T-shirts will be available to purchase if you pay after 1st December or for other members of your family who may want a t-shirt but don't fit in the categories above
Wrist Bands
Wrist Bands will be issued to all members. These will act as membership cards and identification you are a club member. You are required to wear these whenever you are around the club, participating in nippers, patrolling etc.