Bronze Medallion & Surf Rescue Certificate Course / Camp
2nd – 4th, 10th & 11th December 2016
What is it?
The Surf Life Saving Surf Rescue Certificate (SRC) and The Surf Life Saving Bronze Medallion (BM) are the base-level lifesaving awards required to participate as a team member in a surf lifesaving service.
The SRC is primarily aimed at members above the age of 13, and the BM for members 15 years and older. In Victoria, the course incorporates the nationally recognised Certificate II in Public Safety (Aquatic Rescue).
If you are 13 years or older and wish to participate in young guns and don't currently hold either of these awards you are required to complete this course.
If you currently hold your SRC and are 15 year of age you must complete your BM in order to be eligible to participate in young guns.
Adults or senior members are encouraged to participate in this course to assist with water safety and patrolling.
Eligibility
To be eligible for this course you must:
• Be a current financial member of Bancoora SLSC.
• SRC candidates must be 13 years of age.
• Bronze candidates must be 15 years of age.
• Hold or show evidence of a current Working with Children's Check (if 18 or over).
Format
This course will be ran as a camp style for the U18's, where participants will come down to the club on the Friday night and then stay at the club until late on Sunday afternoon of the first weekend. The second weekend will commence early on Saturday and will conclude Sunday afternoon, with participants staying at the club on the Saturday night. There will be adult trainers and senior club members helping out at all times during the camp.
Adults completing the Bronze course can attend on both Saturdays and Sundays but are not required to stay overnight.
When
The course will be ran over two weekends and attendance on all days is compulsory for completion of the course.
Course dates and times:
Friday 2nd Dec 2016 5pm – Welcome and introductions (Adults doing the Bronze are not required to attend)
Saturday 3rd Dec 2016 9am – 6pm – Course. (6pm onward dinner, games & sleepover)
Sunday 4th Dec 2016 9am – 5pm – Course.
Saturday 10th Dec 2016 8:30am – 6pm Course. (6pm onward dinner, games & sleepover)
Sunday 11th Dec 8:30am – 5pm. Course & Assessment
Cost
Camp
$180 includes Public Safety Aquatic Rescue Manual 34th Edition and all meals (breakfast/lunch/dinner) for the live in camp as well as the use of the clubs bunks and facilities and any other resources required to complete the course.
$110 for participants not wishing to stay overnight at the club. Price includes Public Safety Aquatic Rescue Manual 34th Edition and lunch each day any other resources required to complete the course.
Fitness Requirements
Participants are required to complete a timed fitness challenge in order to complete their award.
• Bronze Medallion: 200m run, 200m swim, 200m run at the beach in 8 mins.
• SRC: 100m run, 100m swim, 100m run at the beach in 5mins.
If there are any concerns regarding these requirements, please contact Declan.
How to Register:
1. Log into or create a new user under the Lifesaving anywhere website
http://mt.lsv-from-anywhere.com.au/login?org=lsv
2. Once logged in select new awards as follows: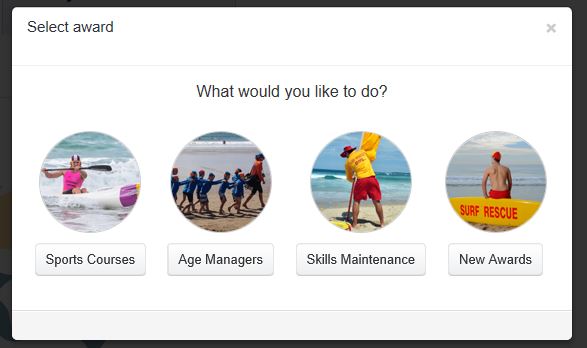 3. Then select the course you wish to register for from the drop down list:
a. Surf Rescue Certificate or
b. Bronze Medallion
4. Then use the calendar and search for Bancoora SLSC course showing on the 2nd December (as per below)

5. Follow the registration details as prompted
How to Make Payment:
Please make payment through the following link and complete details as per below:
http://pay.slsa.com.au/
• Entity: Bancoora SLSC
• Transaction Type: Course Fee
• Complete Name: 'Enter Participants Name' and which course you are completing
• Bronze or SRC Course
• Enter payment amount
• Enter payers details below and submit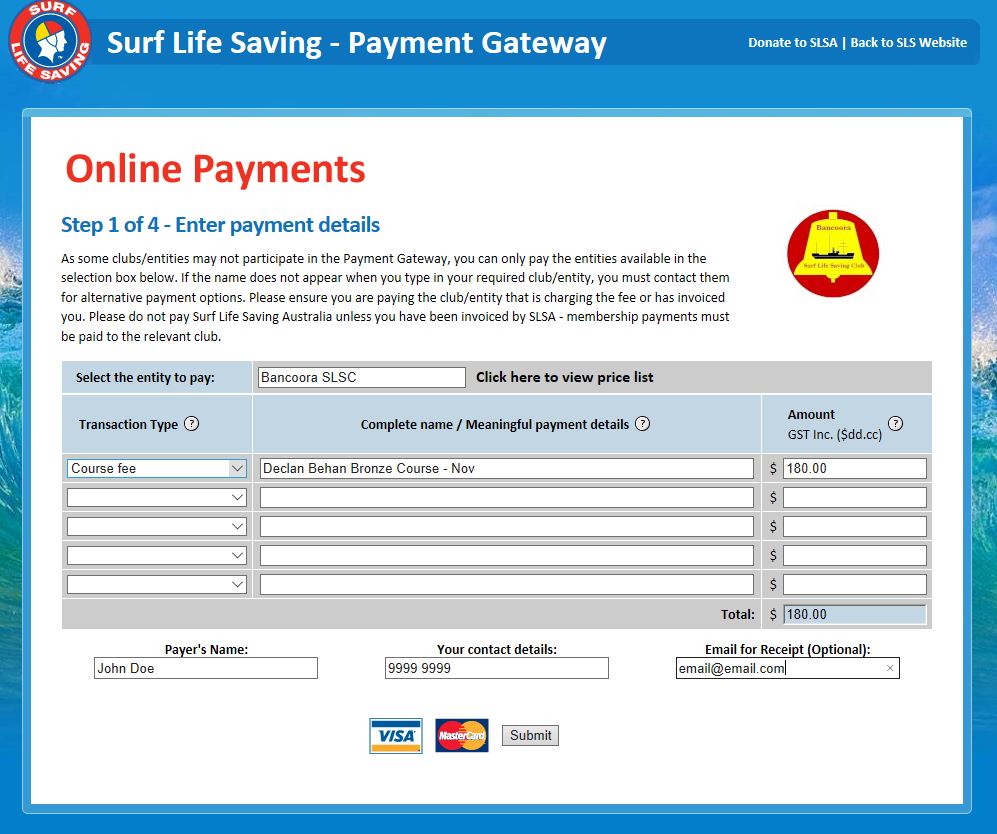 Course Program
Fri 2nd Dec 5:00 pm
Arrival meet and greet. Dinner Provided
Sat 3rd Dec
Practical Session
Chapter 1: Safety and Wellbeing
Chapter 2: Surf Awareness Skills
Chapter 7: Communication
Theory Session
Chapter 3: The Human Body
Chapter 4: Cardiopulmonary Resuscitation
Sun 4th Dec
Practical Session
Review Surf Skills and Communication
Chapter 9: Rescue Techniques
Chapter 10: Carries and Supports
Monday 5th – Friday 9th Dec
Candidates must complete any activity book questions not yet completed, study the manual in preparation for the exam.
Sat 10th Dec
Theory Session
Chapter 5: Basic Oxygen and Defibrillation Techniques
Chapter 6: First Aid
Practical Session
Review Surf Skills, Communications and Rescue Techniques
Chapter 11: Beach Management
Chapter 8: Radio Operations
Sun 11th Dec
Practical Session & Exam
Review Surf Skills, Communications and Rescue Techniques
Practice assessment
Finish 5:00pm
Things to Bring
Everyone:
• Your Manual
• Your Learner Guide
• Pens
• Swimwear / wetsuit (for all sessions)
• Towels (Minimum of two)
• A Change of Clothes
If staying overnight:
• (Enough clothes for the whole camp)
• Sleeping Bag and Pillow
• Any medications
• Snacks (as desired)
• More detailed list will be provided prior to date
Course Assessment
The assessment for this course is divided into a number of parts. The learner guide must be completed by the assessment date 11th December 2016, but will be referred to in the theory sessions. Parts of the learner guide can be completed in your own time along with review of the learner's manual.
On the assessment day candidates will be required to do the following assessment tasks. Note that some tasks are individual in nature, and others will be team assessments.
• Submit a completed learner guide
• Complete a written question paper
• Demonstrate resuscitation
• Demonstrate team resuscitation using oxygen and a defibrillator
• Demonstrate knowledge of signals, flags and radios
• Demonstrate first aid skills
• Run – Swim – Run
• Demonstrate rescue techniques using a rescue tube and rescue board
Any questions can be directed to
Declan Behan
bancoora.training@gmail.com
0423877996
IRB CREW & DRIVERS
What:
IRB Crew: Provides participants with the skills and knowledge to effectively crew an IRB in rescue operations. Prerequisites:
– Be a Financial Member of a Victorian Life Saving Club
– Be at least 15 years old
– Hold a Proficient Bronze Medallion
IRB Drivers: Provides participants with the skills and knowledge to effectively drive an Inflatable Rescue Boat in rescue operations. Prerequisites:
– Be a financial member of a Victorian Life Saving Club
– Proficient in Bronze Medallion
– Proficient in IRB Crew Certificate
– Hold a current Victorian boat licence
– Be at least 17 years of age
When: First Day. 2:30pm Sat Nov 12th at the Patrol and Requal Information day. Other dates TBC.
Note you need to meet all requires prior to participating in the course.
If you're interested in either of these courses, please come to the Patrol and Requal day on Sat Nov 12th and see Declan Behan
Declan Behan
bancoora.training@gmail.com
0423877996
SPINAL, ARTC & DEFIB
What: The ARTC course will develop skills in the use of oxygen, airway management devices, and automated external defibrillators during resuscitation. Defib course will equip candidates to safely use an automated external defibrillator (AED) in an emergency situation. The course focus includes cardiac rhythms, action of the heart and the safe storage/use of an AED unit and the spinal award provides participants with the skills, knowledge and experience to manage injured casualties with suspected spinal injuries in an aquatic environment and in emergency situations.
All three awards will be completed over this weekend with the minimum age for candidate being 15 years.
When: TBC
Where: Bancoora SLSC
Cost: $30 – covers materials and lunch each day (additional pool entry maybe required)
Declan Behan
bancoora.training@gmail.com
0423877996